As the world continues to largely ignore the costly repercussions of environmental pollution, all homeowners should take it upon themselves to promote environmental conservation. In this scary era of indiscriminately melting glaciers and unpredictable climatic conditions, all people are responsible for the health of this planet. Even as we continue to watch and listen disgustedly as unscrupulous corporate polluters peddle selfish lies and deny unquestionable facts regarding the horrors of reckless pollution, improvident resource wastage and the never-ending environmental encroachment, hope in the conscientious individual is still rife and sublime. As such, you should always ensure that all your plumbing endeavors and home remodeling projects feature progressive words like "sustainable home makeovers," "green plumbing solutions/ideas," "eco-friendly plumbing practices," "home energy efficiency" and "recycled plumbing materials" among others. This is just the first step towards creating a healthier home and a sustainable planet. You can start experiencing this sustainable ideology by implementing the following green ideas into your DC kitchen remodeling project.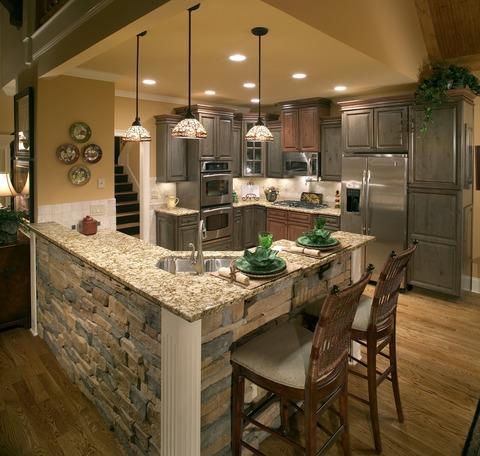 Energy Efficient Appliances
In addition to providing cooking space for your family, the kitchen is also responsible for "roasting" your wallet by contributing a huge chunk of your energy bill. Kitchen appliances, especially refrigerators and other energy consumers like ovens, microwaves, and dishwashers account for the second highest energy needs in a typical household, losing out to heating and cooling equipment only. You can decrease energy use in your kitchen by buying energy efficient appliances. Choose appliances that have been approved under the Energy Star program of the Environmental Protection Agency (EPA). Such appliances use less energy and water than standard models; and hence ensure significant energy savings for you.
Recycled Materials
Although not entirely untrue, the prevailing notion that eco-friendly products and materials are drab, costly and hard to source is very off-putting and has undermined sustainable efforts for a long time. For starters, although some green materials have high initial costs, the subsequent savings on energy efficiency can potentially offset the upfront margin and leave you substantial "gains" in the long run. Also, nowadays there are many different types of eco-friendly materials and products. They come in many fascinating styles and are offered at varying price ranges to suit all budget sizes. In a kitchen makeover project, you can use stylish recycled or rapidly renewable materials to enhance the green philosophy. For instance, you can use recycled glass tiles for your kitchen walls' backsplash. These tiles are unique, elegant, easy to get, durable and easy to clean.
Eco-Friendly Installations
In addition to enhancing energy efficiency and using renewable remodeling materials, you can also buy installations with low environmental impact for your kitchen. Use eco-friendly countertops, cabinets, flooring and finishes to enhance environmental conservation and to curb pollution. You can also focus on improving the kitchen's insulation by installing thermally efficient doors and windows to prevent heat and energy loss from the kitchen. In addition to cutting down on your energy bill and promoting a healthier planet, these installations will offer you and your household significant health benefits. Apparently, the kitchen produces a sizable share of indoor air pollution. From cooking fumes to poisonous gases from flooring, paints, cabinets and countertops, the kitchen is as hazardous as they come. For instance, chemical-based wood preservatives, paints and finishes produce volatile organic compounds (VOCs), which are responsible for various short-term and long-term health problems including ear, nose, and throat (ENT) irritations and even cancer. Use environmentally safe paints, cabinets, countertops and flooring that are VOC-free to keep your kitchen safe and your household healthy.