Like any other major bathroom feature, the flooring complements the entire design theme and defines the personality of the bathroom. Depending on the preferred bathroom style, it is always advisable to consider a variety of factors, such as cost, material, color, quality, and aesthetic appeal among others, before choosing the type and style of flooring and walling surfaces for your bathroom. Also, you must assess various floor ideas during a bathroom remodeling project in order to choose a safe, economical, and durable floor type and a style that is classy and tasteful. Doubtlessly, tiles are the most popular floor and wall surface options. However, there are also other recommendable options that can suit specific project themes. In this light, consider the following flooring ideas before launching your bathroom renovation project.
Tile Ideas
Tiles are made from either natural stone or its imitative alternatives; ceramics or porcelains. Floor tiles are larger and more textured than wall tiles to prevent slippage. Their aesthetic appeal is enhanced by embellishing their neutral/mute colors with distinctive surface and layout designs to match or complement the desired room ambiance. Honed or sandblasted natural stone floor tiles offer more traction than their polished counterparts in wet conditions. On the other hand, slate tiles project a richly organic tone, while travertine tiles appear soft, warm and attractive.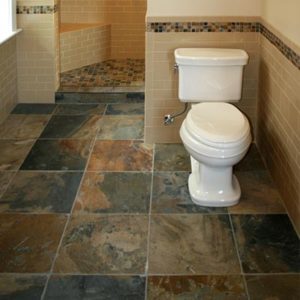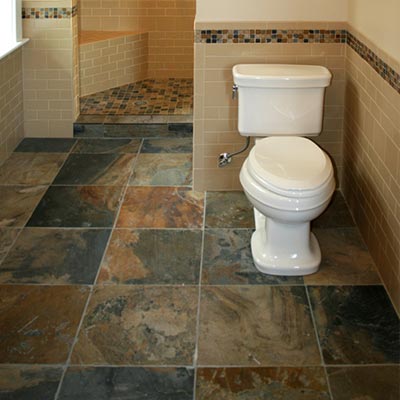 Other Surface Options
In addition to tiles, there are several other flooring options that can come in handy during a bathroom renovation exercise. Hardwood floors are recommended for a rustic design style. They should be used to match the rest of the house and must be sealed to prevent moisture seepage. Basic vinyl is a highly affordable option that is easy to maintain and clean. If you decide to go with carpets, choose special rugs that have a backing to prevent water from seeping into the padding. Choose carpets that are water-, moisture- and stain-resistant; and hence immune to mildew growth. Consider carpet tiles that are easily detachable and removable as single panels to make cleaning easy.
Heated Floors
As mentioned above, tiles are the most common, robust, and affordable surface options for both floors and walls. They are also readily available, beautiful and easy to maintain as compared to other surfaces. However, tiles have one downside — they become very chilly within a very short time. Fortunately, this problem can be fixed quite easily using radiant floor heating systems; hydronic or electric. In a hydronic radiant system, the floor is warmed by hot water flowing through a rubber tubing that runs underneath the floor. Electric heating systems require a thermostat and a timer for controlling a thin electric-heated panel with a heat-resistant cable that is installed underneath the floor. Electric systems are more economical and easier to install than hydronic ones. When installing radiant systems, it is best to consult professionals, and a good idea to hire them. Hiring professionals, unless you are experienced at the task at hand, can save having to later make a call to a DC emergency plumber if you live in that locality, when things go awry.
Bold Tile Designs
Many expert plumbers and professional bathroom remodeling companies are experimenting with bold floor tile designs to create exquisite floor styles. For instance, you might consider trying out the "contrasting size" design style, where you combine small tiles with large ones to create a fantastic surface pattern. Alternatively, you can opt for the "multiple shapes" combination design, where octagonal, oval, hexagonal, and circular tiles are incorporated into a regular or random design pattern to create an incredible magnificent theme.