With the ever-rising cost of living, home remodeling project can turn into a budgetary nightmare for its financiers. Similarly, a typical kitchen remodeling project is likely to stretch your spending limits and might even stall halfway through if not properly planned. The secret to any successful home renovation/makeover project is to identify areas/sections that require heavy spending and those that can enable you to save. In order to determine the key areas to save and spend on, you must first outline your project needs, preferences and objectives. Depending on your budget, your kitchen remodeling project might turn out to be high-end, average, or "on a budget." Whichever the case, you must highlight your focal points and your priority features; either functional or aesthetic installations. In addition to your custom remodeling save/splurge focal points, the following tips will come in handy when considering general budgetary allocations for each section of your kitchen.
Countertops
Unless the countertop is the focal point of your kitchen design, save on it. If you have a low to medium size kitchen remodeling budget, consider the use of placeholders for countertops. Simply put, instead of straining your budget with an expensive countertop like marble, go for a cheaper option, such as a half-priced laminate lookalike, to function as your work surface stand-in until you get money to upgrade in the future. Consult an experienced kitchen renovator and ask for useful saving tips on countertop styles. This idea can be carried over into many areas of your renovations, and talking everything over with a professional Washington plumber providing DC plumbing upgrades will assist you greatly. Also, source for similar but cheaper countertop material alternatives — instead of splurging on an expensive grade 5 granite countertop, choose a grade 2 surface for a better ROI.
Cabinets
Be prepared to spend heavily on cabinetry. Basically, cabinet costs will soar when you include delivery expenses, taxes and installation costs. Additionally, the installation of various cabinetry features like drawers, shelves, roll-out trays, ceiling high cabinet extensions and corner cabinet fit-outs will increase the costs significantly. When budgeting for cabinetry, splurge on functionality and durability. For instance, install drawers in base cabinets to enhance storage accessibility and go for ceiling-high wall cabinets for more storage. A waste recycling unit is a must-have and soft-close drawers and cabinet doors are a necessary convenience today. Although you are advised to save on the actual cabinet construction materials, such as choosing veneer over solid wood, use plywood instead of particle board to build cabinet sides and shelves in order to ensure strength and longevity.
Appliances
Because they are the most utilized features in the kitchen, splurge on appliances. Focus on energy quality and efficiency as indicated by warranties and product features. However, ensure a balance between your budget for appliances and hardware installations. If you overspend on any of these features, you will risk having a stalled project due to diminished implementation funds. Select stainless steel appliances to ensure longevity, attractiveness and home value enhancement.
Hardware and Fixtures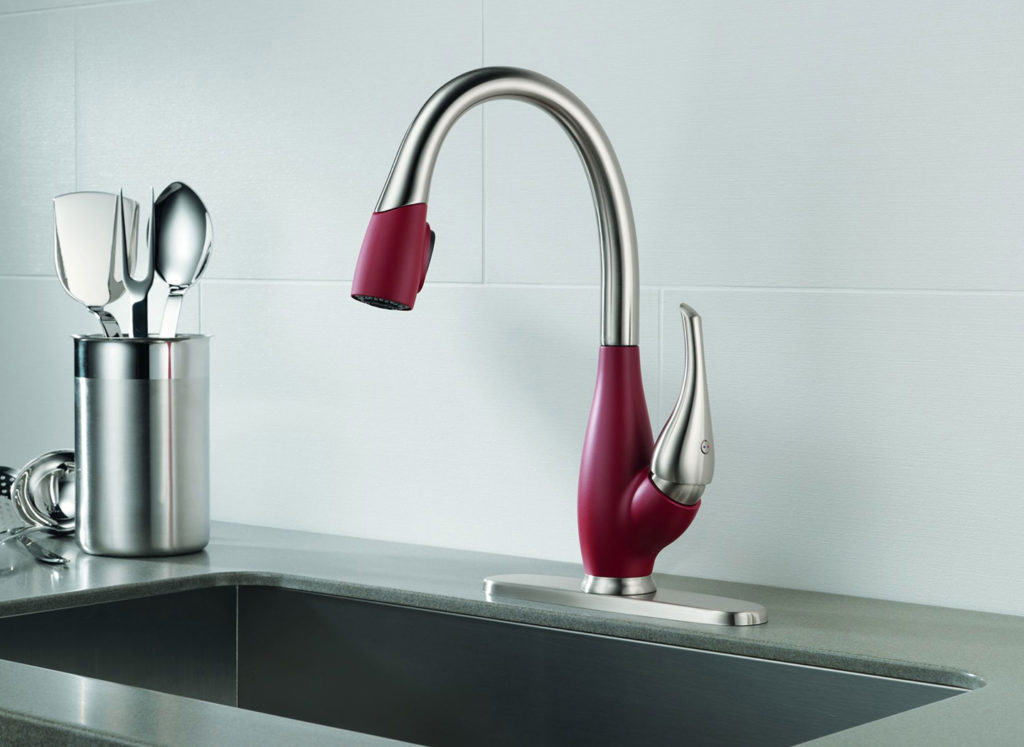 Refresh your kitchen cabinet looks by installing new knobs, pulls and handles. These functional and aesthetic enhancements can be acquired for very little money; provided you consider their quality. Enhance the visual appeal of your kitchen and render a rich tasteful décor by replacing the brushed stainless steel hardware with trendy oil-rubbed bronze, nickel or pewter options.  Likewise, choose a finish that gives your faucets and sinks a classy and tasteful appeal.
Tiles
Use ceramic tiles to create unique wall back-splashes and large porcelain tiles to give an updated and modern outlook to the kitchen floor. As compared to natural stone, porcelain tiles are hardy, affordable and durable surface materials that are able to resist cracking and chipping. Save on floor tiles by choosing porcelain tiles that resemble natural stone, but spend on back-splash deco tile designs like glass tile mosaics.