Despite the inherent budgetary constraints in a low-end or "on a budget" kitchen remodeling project, you can still come up with an amazing design style that is both functional and aesthetically pleasing. You only need to be think "outside-the-box" — be creative, innovative and daring. This means that you have to embrace the idea of experimenting with bold, unique design options. One of the most dynamic design sections during a kitchen remodeling project is the floor. There are four conventional/traditional kitchen floor types: hardwood, vinyl, ceramic tiles, and laminate. Additionally, there are several green/eco-friendly materials like linoleum, bamboo and cork flooring that might be considered by environmental conservation enthusiasts. For the most imaginative kitchen renovators, there are three alternative kitchen floor ideas that might be more appealing to you than any of the aforementioned choices: rubber, carpet tiles and concrete.
Carpet Tiles
Available in many different colors, styles and patterns to match any desired look, carpet tiles offer an exciting and functional addition to the kitchen décor. They can be used as customized rugs to mark eating spaces or to create soft floor workspace zones. Carpet tiles feature a reinforced backing that inhibits mold or bacterial growth. They can be removed, rearranged and replaced easily — making them easy to clean and maintain.
Recycled carpet tiles, which are made by grinding up used vinyl and nylon carpeting, are a popular alternative floor type. In some cases, both the carpet surface and backing are made from recycled materials. Recycled carpet tiles offer a myriad of benefits as kitchen floors. First of all, unlike traditional carpet tiles, which produce poisonous gas in the house, recycled carpet tiles are made from recycled materials without any toxic, petroleum-based chemicals. Secondly, they are very strong and durable. Thirdly, they allow enhanced design flexibility and versatility — you can mix and match various tiles to create any desired carpeting pattern or style. Also, their modularity allows easy installation and pattern manipulation; as desired any the designer. Finally, they are environmentally friendly ensuring a healthier home and planet.
Concrete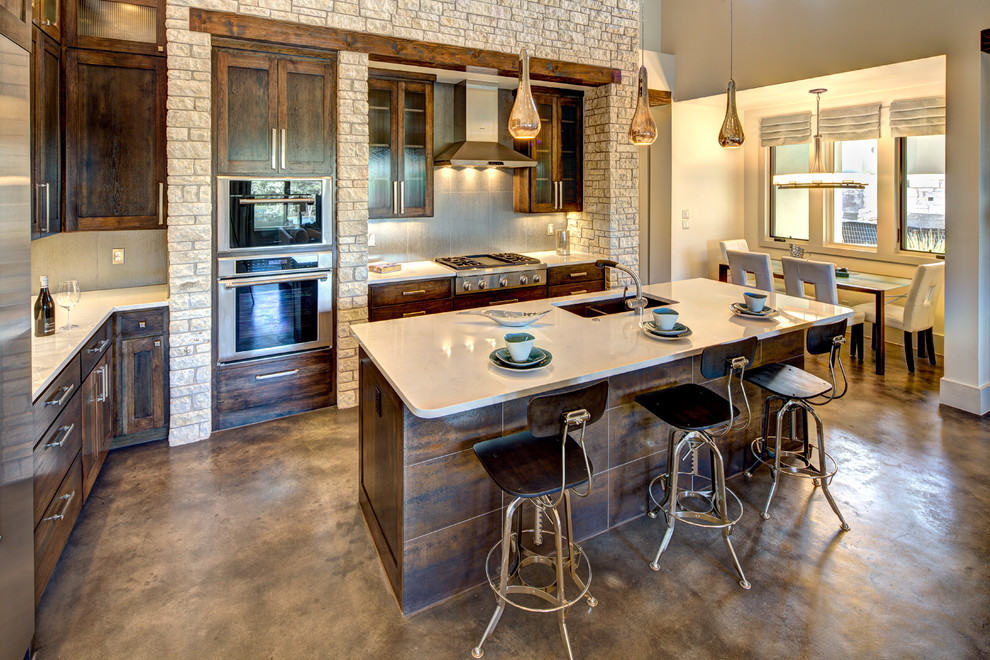 Concrete is perhaps the most advantageous alternative kitchen floor in use today. Although it looks like stone, concrete can be customized through dying, texturing, stamping and scoring to achieve any desired look or appearance. To complement your kitchen décor, consult an experienced kitchen remodeler and discuss the best options for your project. For instance, consult any reputable company, which engages in DC plumbing renovations, if you live in the Washington city region. Concrete is far much cheaper than stone and it absorbs heat; thereby reducing energy bills.
Because it inhibits mold, mildew, and odors, concrete improves air quality in the home; it can also be finished with zero-VOC sealers. Suitable for an urban-chic kitchen style, concrete is durable, water-resistant, and easy to clean and maintain — best option for households with kids and pets. Concrete slabs are also becoming popular finished kitchen flooring options.
Rubber
Rubber is available as either sheet or tiles and it comes in a vast array of colors, patterns and textures. Recommended for contemporary kitchen remodeling styles, rubber is strong, affordable, durable and easy to clean. It is nonporous, does not burn easily, and requires easy DIY installation. It is warm, soft and springy, and noiseless to walk on. There are also eco-friendly rubber floors made from recycled rubber and rubber-cork blends.