One of the main reasons for doing bathroom renovations or makeovers is to create extra space. With an emphasis on the creation of an idyllic bathroom space, all modern-day bathroom remodeling designs aim at maximizing the available space to ensure a cozy, spa-like bath experience. In most cases, it is not possible to extend the physical space of the bathroom in terms of square footage. Luckily, home remodelers have discovered some clever interior design techniques that can be implemented to create an expansive feel/tone in a relatively small space. Consider the following ingenious space optimization ideas to create a "big" comfortable room in the existing tiny bathroom space.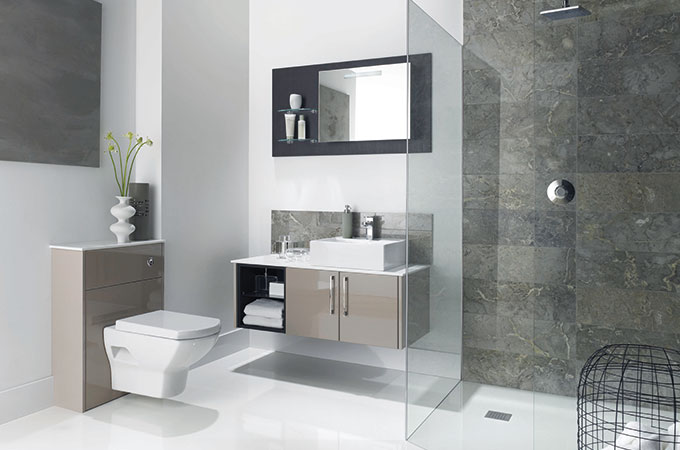 Glass And Reflective Surfaces
Glass and reflective surfaces help to make the bathroom space appear larger than it really is. Use a lot of glass in the most experiential sections of the bathroom, such as the entrance to the shower space, to create an expansive spa-like environment. Include a lot of reflective surfaces including the countertops, cabinets, vanities, fixtures and shelves to enhance the expansive feel in the bathroom. Installing large mirrors to reflect the soft wall colors will also optimize the "big space" illusion. You can also use the common technique of installing two mirrors (or more in a tiered design) on opposite walls to create multiple reflections at each other and create an illusion of continuing space where there is none.
Lighting (Natural And Artificial)
Create an open, airy feel by directing natural/sun light into the bathroom using various window installations. If the bathroom layout permits it, place a bay window in your small bathroom. Otherwise, install either a small operable or glass-block window outside, or in the shower, to allow as much sunlight as possible into the shower area. You can also consider installing regular/tubular skylights to trap as much sunlight as possible.
Use recessed lighting techniques to enhance the brilliance of the bathroom space without appearing too obtrusive. Install recessed lighting fixtures in any part of the ceiling and focus them on any area to make it more open and expansive in appearance. To ensure energy efficiency and avoid heat-related discomfort, choose the number and type of artificial lighting fixtures carefully.
Floor Space
Implement functional space substitution tactics to create "extra" floor space in your bathroom. For instance, if you have alternative storage space, consider replacing your vanity cabinet with an "economically sized" fixture like a wall-mount sink or a pedestal. Although the freed up space is not functional, it creates the illusion of a larger bathroom. Consult your residential plumber on insightful space maximization tips such as these. For instance, contact any professional plumbing company specializing in DC bathroom renovations if you live in the Washington DC city area. Discuss any other productive space usage tips with these plumbing experts, such as installing wall-mount toilets or replacing larger toilets with smaller ones to enhance the "large space" effect.
Color Schemes
Create the illusion of a much larger space by painting the bathroom floors and walls with pale, soft colors. Deep/dark, rich/strong colors are unsuitable for small bathroom spaces. If you wish to brighten the décor with bright colors, buy radiant accessories, towels, and decorations.
Embellishments
Go for "space expanding" decorations like crown moldings to maximize tiny ceiling space.  Choose and install a crown molding of the right size and type to expose the space itself and ensure longevity.  Tiles can also be used to create a contemporary and visually appealing bathroom scene.  Combine one or two of the above mentioned techniques for optimal space results.