You should consider the following factors when choosing the best floor for your kitchen: the cost of floor material (in line with your budget), strength and durability, care demands, aesthetic appeal and installation demands among others. There are four conventional kitchen floor types: wood, ceramic tile, laminate and vinyl — and a number of green/eco-friendly floor types, such as bamboo, cork and linoleum. Faced with all these options, you might consider requesting professional assistance before making a choice. It is always a good idea to consult a reliable local plumber for all kitchen and bath remodels, because plumbing has an impact on almost every aspect of your remodel. Contacting any professional plumbing company in DC, if you live in the Washington DC locality, will start you off on the right track with good advice and better information. Discuss your floor needs with the company's remodeling consultants before choosing the most appropriate kitchen floor type that is within your budget.
Hardwood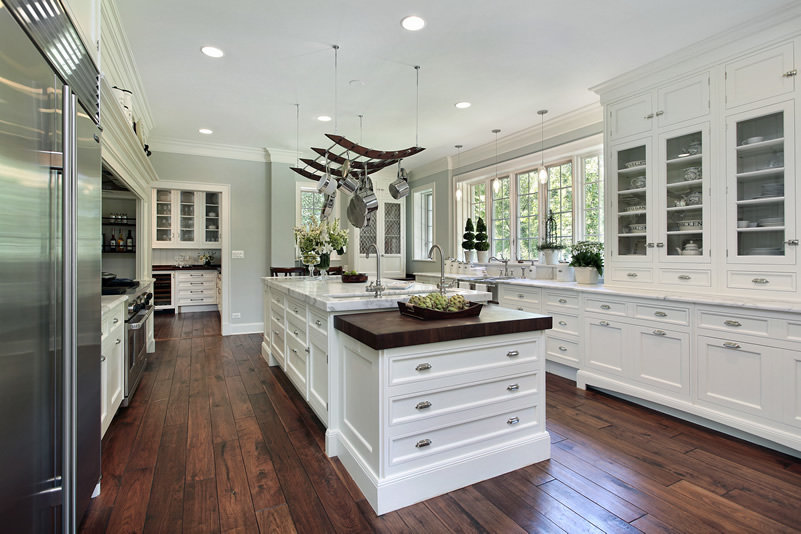 There are two types of wood kitchen floors: solid and engineered hardwood floors. Both types of hardwood floors complement a wide range of décor styles and are warm, quiet and easy to walk on. Their care/maintenance, strength and durability depend on the species of wood used and the finishing. Hardwood floors are quite expensive; with engineered hardwood costing as much as solid hardwood in some cases.
Although solid hardwood can be refinished many times if it scratches, it is easily stained and blemished by water and humidity if not properly sealed. On the other hand, engineered hardwood is not easily stained or affected by humidity because it has a tough fiberboard as its core.
Ceramic Tiles
Tiles are available from many different materials including cement, stone, porcelain and ceramic; hence are easy to blend and customize with many different colors and patterns. Although they require significant installation costs, they are very tough and durable, and are recommended for busy kitchens spaces. They are easy-to-clean but their grout lines are difficult to maintain — use large tiles with fewer lines. Unlike wood floors, tiles are cold, noisy and tough to walk on.
Laminate
Laminate is the ideal choice for anyone wishing to convey the natural look and feel of hardwood floors using artificial materials. Laminate is affordable, very durable and easy to maintain and install. It comes in many different colors and styles including wood, stone and even recycled materials. However, laminate is quite noisy and not as warm as hardwood floors.
Vinyl
Vinyl sheeting and tiles are the best floor types for a budgetary constrained kitchen remodeling project. Vinyl is cheap, water-resistant, easy to install and maintain, durable, and comes in many different colors and patterns. Unfortunately, vinyl floors tend to curl at the edges and they can turn dull and grimy if not properly cleaned.
Green Floors
Linoleum is one of the most popular green floor types that are making a comeback for being environmentally friendly. Popular in the mid 20th century, linoleum is made from linseed oil, cork dust, wood flour, tree resins, ground limestone and pigments.
Produced from bamboo grass, which is a fast-renewable product, bamboo is another eco-friendly floor option. Ensuring that your bamboo floor features a formaldehyde-free finish means that it's green.
Like vinyl, cork flooring is available in sheets and tiles. It is made from the harvested bark of cork oak trees; making it environmentally friendly. Like ordinary wood, cork is warm, soft and quiet to walk on — it can also withstand moisture if properly sealed. However, cork is permanently ruined by deep scratches.