Many people would like to begin the process of remodeling their bathroom. Often, for quite some time long before the physical remodeling process begins, people have been imagining the finished product in their head. They have thought about what it would be like to have a brand new shower. This shower might have all the modern, luxury amenities that showers are able to be equipped with now. Before the first nail is struck with a hammer, many people in the early planning process of a bathroom remodeling job are already imagining how relaxing their new shower will be each morning and how effective it will be in preparing them for the day ahead. These bathroom remodeling fantasies might also include visions of brand new fixtures, or maybe even a new countertop surface. A lovely new soaking tub may be in the works for some, while others dream of dual sinks.  For some, a brand new toilet might be high on the wish list. For the more environmentally-conscious, perhaps the toilet is a newer model equipped to deliver the water efficiency benefits that newer toilets can now provide.
Fantasy Must Turn Into Reality
At some point, however, the enjoyable planning phase must evolve into concrete action, and the remodeling job has to actually begin. And the work isn't even the most unpleasant part of the bathroom remodeling process. Once the tools come out of the box, it's all downhill from there. No, often the most difficult part of the bathroom remodeling process is the consideration of the plumbing aspects of the job. Many people do not initially factor this into their vision for the very simple reason that you can't see a bathroom's plumbing. But the most luxurious shower and most efficient toilet are nothing without a solid plumbing system to keep them functioning optimally.
Plumbing Systems Must Be Considered First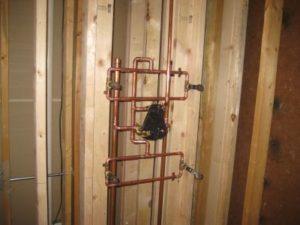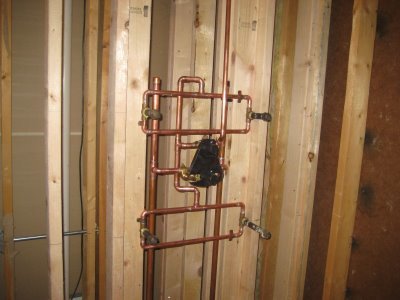 The first main plumbing consideration to be investigated and planned is the actual plumbing system, its location, and whether it needs updated and/or moved to accomplish the remodel.  The best way to go about this is to draw up a plan showing how you would like your bathroom remodel to look.  Then have your plumber look it over & tell you what all will be involved to reach your end result, and make sure the changes you propose are feasible.
Consulting A Plumber Saves Hassles
After you both agree on a doable plan, realistic not just physically and spatially, but also within your budget, then you are set to begin.  Spending this time with a professional plumber before work commences will save you many headaches, time, and money in the long-run.  Remodeling and upgrading your bathroom should leave you pleased and happy, not disappointed and broke.
For more information on the specific cost of the remodeling job you may be planning or for an assessment of what remodeling might be possible in a particular bathroom space, contact a DC plumbing renovations company and make an appointment to have a professional plumber come out and take a look at what you have along with your design plans.