Plumbing is very important to the health and safety of your home and family. So it's crucial that you know how to find out whether or not a plumber is qualified to provide plumbing services for your home or business.
Contracts and Estimates
A skilled and experienced plumbing professional should have no problem providing you with sample contracts or estimates for you to review. Many companies even offer free estimates.
Licensing
Never let anyone claiming to be a plumber perform services or conduct repairs to your home without verifying that the company and the plumber are licensed first. Bonding and insurance are also key factors to consider when selecting a plumber. Bonding means that the company will protect you if doesn't finish the job or doesn't follow through on financial obligations.
Years of Experience
A qualified plumber should be able to prove his years of experience and know the history of the company. It's important to do research on your own and find this out. Don't rely solely on the company to provide you with this information. Check to see if the company is accredited by the Better Business Bureau (BBB) too. But again, this shouldn't be the only factor that you consider when you select a plumbing professional.
Professionalism
A plumber should be professional and courteous to customers. Make sure they are upfront with you about pricing. And they should also talk you through every step in the service and repair process. And be sure they are willing to accommodate your busy schedule as well.
Proper Material Use
An experienced plumber will also know the proper materials to use in order to provide the highest quality services and repairs to your home or business. For example, a qualified, licensed plumber knows that the best materials to use for pipe installation and repairs is a combination of copper and PVC. These materials are easy for the plumber to work with as well as being safe for your home and family. They are also less expensive and more durable than other types of pipes. These are just a few of the things that you need to look out for when you're choosing the right plumber for your home or business.
Searching For a Plumber in Your Area
If you're looking for DC plumbing services for example just do a simple online search. Or ask friends or family for a recommendation. This will ensure that you find the right qualified plumbing professional for your home or business.
Green Cleaning Tips
Keeping your home or business clean is just as important as keeping your plumbing systems running efficiently. Using a few simple green and environmentally friendly cleaning tips can save you time and money. Green cleaning gets your home or business clean without using harsh chemicals that can be hazardous to your health.
Green Toilet Cleaning
An easy and green way to clean your toilet is to use a half a cup of vinegar and a spoonful of baking soda. Combine these two ingredients and pour them into the toilet bowl. After thirty minutes, clean your toilet with a toilet brush.
Sparkling Sinks and Vanities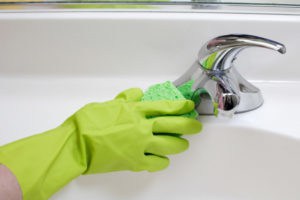 To clean your sink or vanity in an environmentally friendly way, use a spray made from a combination of two cups baking soda, a half a cup of dish soap, one cup of water and half a cup of vinegar. To clean fixtures use a combination that's one part vinegar and one part baking soda.
Showers and Tubs
To clean your shower and tub, you can also use a combination of baking soda and dish soap. Using these simple cleaning tips will give you a cleaner, greener home.