Like in any other project, budgeting is an integral activity in a bathroom remodeling project. During the project planning phase, you must create a realistic budget featuring itemized expenses for all project materials, service charges, and any other miscellaneous expenses — giving the total expenditure for the whole project. Generally, there are three types/classes of bathroom remodels as dictated by their budgets: upscale/luxury (excessive budget), standard (basic budget), and downscale (tight budget). When creating a standard or downscale bathroom remodeling budget, you must prioritize functionality instead of aesthetic appeal. In other words, you should channel more resources (splurge) towards the functional features of the bathroom like the plumbing fixtures and skimp on embellishments like tile designs. In order to create a reasonably attractive, utilitarian bathroom, follow these spending tips.
Countertops
Choose an economical, sturdy, and easy-to-maintain surface material for countertops. This means that instead of going for granite or even quartzite, you can opt for a granite-like laminate. Unless you want to make a statement about your entire design style with your countertops, you don't have to splurge on them.
Cabinets
Cabinets are some of the most functional installations in a bathroom. Therefore, splurge on cabinets, otherwise they will not last. If you use cheap low quality materials for cabinets, the wet and humid conditions will destroy them in a short time and then you have to replace them at an extra cost — it's financially illogical.
Walls
Do not splurge on walls; you can still enhance their aesthetic appeal by being a little bit creative. You can choose specific sections for targeted tile decorations instead of using expensive tile patterns to decorate all the walls. For instance, you can do a classic mosaic tile pattern on one shower wall and then cover the rest of the bathroom in economical, durable, and functional plain white porcelain tiles.
Floors
Floors do not need to be expensive at all — just make sure that the shower tiles are rough-textured and have large grout lines to ensure traction. Instead of spending on expensive tile designs, you could install electric heated floor mats for comfort.
Fixtures And Finishes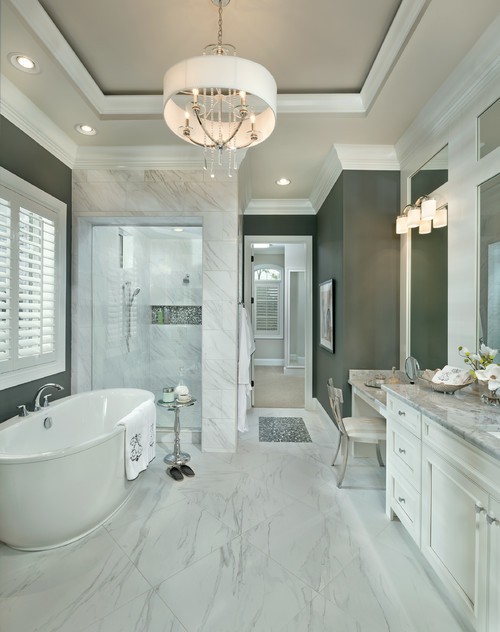 Regardless of the budget, it's all about quality when it comes to plumbing fixtures. For showers, toilets, and faucets, choose a durable model with an enduring finish to ensure excellent water flow and to avoid imminent replacements. Depending on your budget and personal preferences, you can choose to install either a rain shower head or body sprays — just choose the best quality. You should be even more concerned about quality when buying faucets than showers because faucets are used more frequently. Due to budget constraints, you might need to consult an expert plumber in your area for advice on the best fixture models within your price range. You can find a professional plumber by searching the internet using terms like DC plumbing repairs, if you live in Washington.
Buy a soaker bathtub instead of splurging on a large-size, spa tub — also, one tub is probably enough for the whole house. Finally, settling for one vanity sink can help save money on all the associated fixtures and accessories for an additional sink. One sink is quite adequate — and enables you to expose a sizable section of your beautiful countertop. As far as fixture materials go, chrome is the most economical and durable plumbing finish for your fixtures, such as showers and faucets.