If you can afford it, it's advisable to indulge in a little bit of luxury every once in a while. After all, life is too short and unpredictable. When planning for a bathroom remodeling/renovation project, you might consider installing some deluxe fixtures and additives in order to render an opulent outlook in your home. Additionally, these high-end features are designed to enhance the functional and experiential benefits of the new bathroom. By making the bathroom more classy and cozy, these elegant ideas transform the bathroom from a mere utilitarian space to a special "retreat" or "sanctuary" within the house. If you wish to rejuvenate your bathroom into a sumptuous get away, implement some of the following grand remodeling ideas.
Steam Showers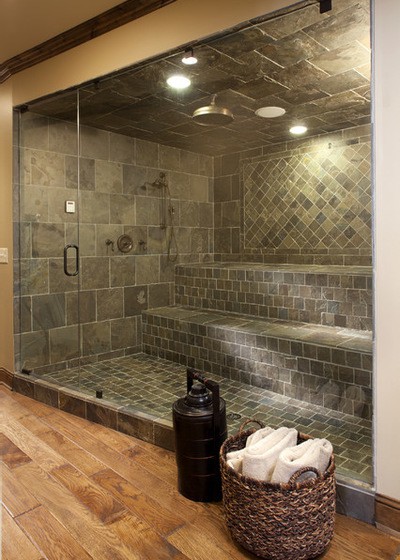 By combining warmth and controlled vigor, a steam shower is the ultimate relaxation treat after a long and tiresome day at work. Aromatherapy steam showers feature lavender soothing oils for enhanced relaxation and medicinal effects on a tired body. Actually, with modern bathroom remodels, steam showers are now considered necessities instead of luxuries. You can order steam showers from any reliable vendor in your locality. Some vendors offer free installation services to their customers. For instance, if you live in Washington DC, seek out any reputable company that advertises itself for DC bathroom remodels and assess their terms of engagement. Choose the most rewarding bargain in terms of quality and cost, keeping in mind skills and experience are just as important.
Chromotherapy
Install feel-good colored lights in your shower or bathtub to experience the amazing effects of a spa treatment in the comfort of your bathroom. Also called color therapy, chromotherapy refers to the diffusion of soothing colors in water using submersed LED lights — they change to suit your mood. Popular for its health benefits, this feature can be installed singly or complemented with other therapeutic options like aromatherapy for optimal effects.
Bidets
Considered a luxury in some parts of the world, a bidet is a common bathroom fixture in Europe. Bidets are alternative cleansing appliances that require little bathroom space to install. Featuring a handy faucet water control, a bidet user cleanses his body using warm, aerated water instead of a tissue paper. The user straddles the bidet and a nozzle projects a gentle spray of water for body cleansing. For standard bathroom renovations, you can install a toilet with a bidet seat and enjoy the same benefits.
Heated Floors
Bathroom floors, especially those made from natural stone, porcelain, or ceramic tiles, are usually very cold to step on. This is usually the case if the bathroom remains unused for a longtime or if cold water is poured on the floor, such as after someone tales a cold shower. In-floor heating systems are functional appliances that are quite affordable and hence highly recommendable. Basically, these are electric mats that are installed underneath the bathroom floor. Featuring either automatic or manual settings, these mats heat the floor ensuring a cozy and desirable sensation to the feet.
Elegant Remodeling Style
For an undoubtedly luxurious bathroom, the overall remodeling style or theme should be defined as chic or rich. In other words, all the features, fixtures, appliances, installations and finishes should exude opulence. For instance, if you desire a classically rich bathroom style, go with royal or vibrant colors and lights, and a voguish design that includes ornate fixtures, bold and elegant tile patterns, lavish cabinet designs, and extravagant mirror frames.