If your home needs a facelift, consider a bathroom remodel. But a bathroom remodel can be a daunting and costly task, if you don't hire a professional. Here are some tips and things to consider if you're thinking about doing a bathroom remodel in your home.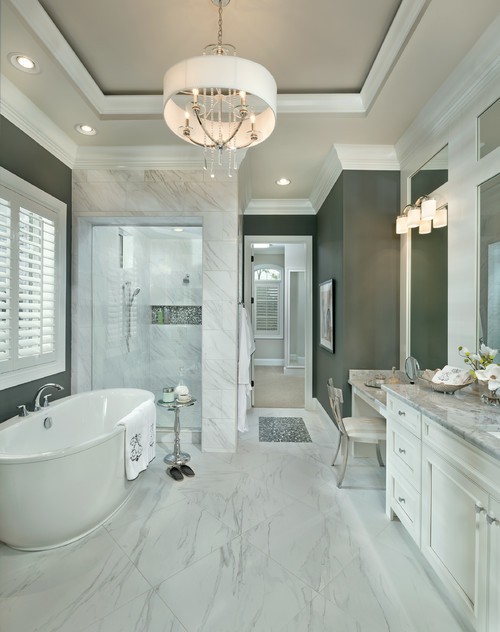 Do Your Research
The most important thing to do before you decide to do any kind of remodeling project in your home is to do your research. Know what kind of changes you want to make, how much time the process will take, and how much money you're willing to spend. Watching home improvement programs may help to give you some ideas. But don't go overboard. Those programs can be misleading because they often make big projects seem easier than they actually are. And if you watch too many of those shows all the designs begin to look the same after a while.
Have All Your Materials Before You Start
Even though counter tops and custom cabinets will take extra time to arrive, you can save yourself time, money and frustration if you purchase small items like fixtures, lighting, tile, and even the tub before you start the remodeling project.
Consider All The Choices
You're going to be using this newly remodeled bathroom for a long time. So don't rush into anything. Shop around at home stores for the best deals; look in magazines and shop online until you find exactly what you want.
Shower Shelves
When you're planning your dream bathroom, don't forget to include shelves for your soaps, shampoos, body washes, razors, and other items. Plastic shelves are less expensive but they're also not as durable as ceramic tile shelving, or built-in wall-shelving.
Removing Old Flooring
One of the most difficult parts of any remodeling project is removing the old flooring. This can be particularly tough in the bathroom because of water damage that can occur near the toilet. Tell your professional contractor to use one-quarter inch plywood or cement board before you lay a new tile or vinyl floor. Vinyl flooring is easier to clean than tile and doesn't require any grout like tile does. Vinyl flooring is also more durable and will not have to be replaced or repaired as often as tile flooring.
Install A Curved Shower Rod
A great way to save space in your shower is to install a curved shower rod. Curved shower rods cost more than straight ones, but they're more aesthetically pleasing and stronger so you don't have to worry about them falling or being pulled down.  They give you more elbow room in the shower, without taking away extra floor space, which is usually at a premium in a bathroom.
Lighting
Choosing the right lighting for your bathroom can be tough. It's important to make sure the lights are bright enough for you to see comfortably. But you may also want to have the ability to use softer lighting for those moments when you want to relax after a long stressful day. Recessed lighting is a great way to accomplish this. You may also want to ensure that the lighting you select is designed specifically for bathrooms.
Finding The Right Contractor
Finding a contractor for your bathroom remodel might seem like an expensive proposition. But it's much better in the long run to hire a professional rather than doing it yourself. If you do it yourself and make a mistake, it will cost you more to hire a professional to make the repairs than it would have to hire a professional in the first place. To find the right contractor for your bathroom remodel, simply use the internet to guide you.  For example, if you're in DC simply search for DC bathroom remodeling online.   It may also be a good idea to ask friends, family members or co-workers to recommend a good contractor. Use these tips and you'll be on your way to having the bathroom of your dreams.